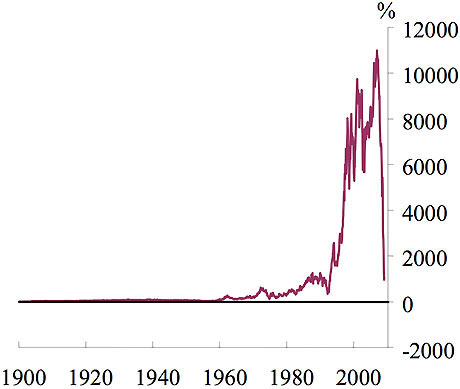 Over the last 20 years to the South Sea bubble of the early 18th century and said bankers had merely "resorted to the roulette wheel" to keep up with each other.
The Bank's executive director for financial stability, Andy Haldane, said in a speech in Chicago that having been stable over much of the 20th century, returns in the banking system relative to the wider stockmarket shot up after 1986 until 2006.
"Banking became the goose laying the golden eggs. There is no period in recent UK financial history which bears comparison," he said.
He said bankers and policymakers became seduced by the excess returns available: "Banks appeared to have discovered a money machine, albeit one whose workings were sometimes impossible to understand.
"One of the South Sea stocks was memorably 'a company for carrying out an undertaking of great advantage, but nobody to know what it is'. Banking became the 21st-century equivalent."
He said banking returns over the period were magnified by leverage as banks borrowed excessively, he said.